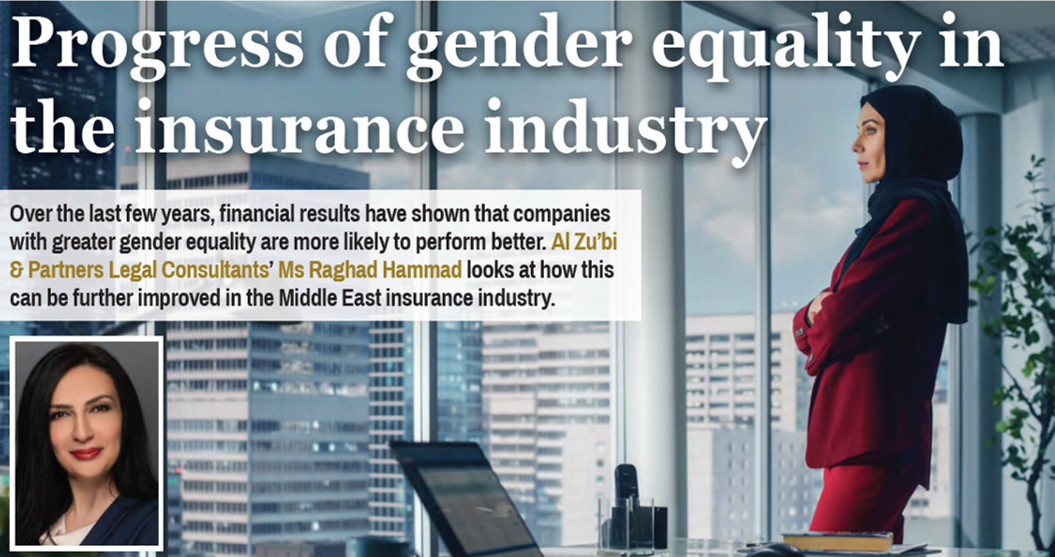 Over the last few years, financial results have shown that companies with greater gender equality are more likely to perform better. Al Zu'bi & Partners Legal Consultants' Ms. Raghad Hammad looks at how this can be further improved in the Middle East insurance industry.
 In recent times, a significant shift has been seen in insurance companies, brokers and reinsurers due to further inclusion and receptiveness towards women being employed. The change in perspective has brought about an increase in company profits and better performance for companies in the insurance industry.
 Financial benefits of gender equality
The problem of gender inequality has still not been solved as issues such as the pay gap, the opportunity gap and lack of leadership prospects are still present due to gender inequality. A target to eliminate it must be set in the near future in order to progress gender equality in the Middle East insurance industry.
Several studies have shown how women's natural instincts and empathetic characteristics are proven to be beneficial for claims management, processing and underwriting positions. An important factor in the success of the industry has been building good relations and a strong network of leading individuals, which is a prominent trait seen in women.
While there has been a lack of opportunities in the past for women in the Middle East insurance industry, in the last few years, we have observed the impact women have brought to the region's insurance industry through their hard work and efforts, which often go unrecognised. It is crucial to promote such talent, hard work, effort and creativity by opening more opportunities for them in order to achieve even better results.
What needs to be done
The willingness to make changes is what demonstrates clear gender equality progression in the insurance industry.
In a recent study, Swiss Re recommended that companies in the insurance industry must set quantifiable gender-based hiring and promotion targets, which would essentially lead to a gender-neutral environment at the workplace. It is also beneficial to explore hiring women in not just one insurance line, but across different departments in order to increase the involvement of women and to yield better overall results. Companies need to adopt policies addressing the primary issues such as unequal pay and opportunities.
It is also essential for companies to start recognising the need to maintain work/life balance and to provide flexible work arrangements that are suitable for women, such as the option to work from home and to have a balance of part-time and full-time employees.
Spreading awareness and rewarding such efforts made by women are important efforts that could change perspectives of companies in the Middle East insurance industry to open and allow better opportunities for women.
Things have improved
More recently, women have been recognised for their ability to balance maintaining good relations, building strong networks and to step into problem solving arenas whilst considering the best suited mechanism for risk management.
The insurance sector has started spreading more awareness on this in recent times by recognising efforts made by women and empowering them, which is in itself an achievement and evidence of striving to be a gender-equal and neutral industry.
Some companies have successfully created effective policies relating to equal pay and opportunities and it is time for all companies in the Middle East insurance industry to adopt such policies and to promote women – especially those with talent – as this will have a positive impact in building a profitable industry.
Ms. Raghad Hammad is executive director and partner at Al Zu'bi & Partners Legal Consultants.