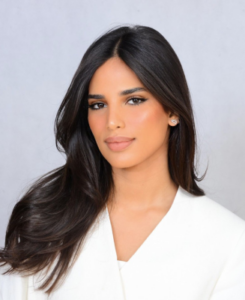 Principle Practice Areas: Corporate Business & Commercial, Mergers & Acquisitions, Real Estate, Intellectual Property, Labour, Litigation, & Civil
Sama is an accomplished legal professional with a strong academic background earning several degrees in Law and Business Management. She holds a Bachelor of Science degree in Business Management with a minor in Business Law from California State University, Northridge, United States (BSc). She continued her postgraduate studies in the United Kingdom with a Graduate Diploma in Law (GDL), Legal Practice Course (LPC), and Master of Science in Law, Business and Management (MSc), Commendation from the University of Law, London Moorgate.
As part of her academic pursuits, Sama conducted a thorough analysis of the current regulatory framework surrounding Corporate Governance and whistleblowing in the United Kingdom for her dissertation. Prior to pursuing her legal career, Sama initiated a sustainability project during her undergraduate studies in the United States, reflecting her commitment to giving back to society.
Sama started her legal career in Bahrain and is committed to expanding her knowledge and expertise and is currently pursuing the Professional Legal Practice Certificate (PLPC) from the Ministry of Justice, Judicial and Legal Studies Institute. The PLPC program covers a broad range of legal areas, including Corporate Law, Anti-Money Laundering regulations, Real-Estate Law, and Arbitration.
Sama's fluency in both Arabic and English allows her to communicate effectively with clients from diverse backgrounds. Her unwavering dedication to her profession and ongoing education ensures that she is well-equipped to provide high-quality legal services to her clients.