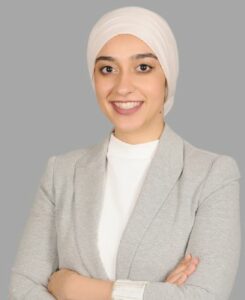 Principle Practice Areas: Banking & Finance, Corporate, Business & Commercial, Corporate Secretarial, Company listing & Formation.
Reem received her Bachelor of Laws degree from the Royal University for Women, paving her way for her continued studies in Contemporary Legal Topics at the University of Oxford.

Starting her career, Reem trained in the Supreme Judicial Council and the Central Bank of Bahrain, where she gained invaluable experience pertaining to the regulations of the Kingdom of Bahrain, specifically regarding Fintech and the Regulatory Sandbox.

At present, Reem is pursuing the Professional Legal Practice Certificate (PLPC) from the Ministry of Justice, Judicial and Legal Studies Institute, in respect to the Corporate Law, Anti-Money Laundering regulations, Real-Estate Law, and Arbitration.

Reem is fluent in Arabic and English.