Partner & Executive Director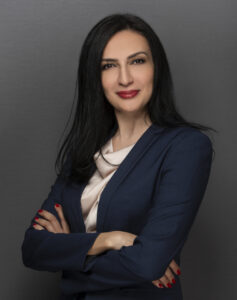 Principle Practice Areas: Corporate, Insurance and Reinsurance, Mergers & Acquisitions for Insurance and Reinsurance Companies, Wills and Probate.
Raghad Hammad is admitted to practice as a certified Part I & Part II legal practitioner and as a registered Wills Draftsman in the Dubai International Financial Centre Court and is registered with the Dubai Legal Affairs Department, and the Jordan Bar Association. She obtained her LLB from the Mu'tah University in Jordan followed by an LLM in International Commercial Law from the University of Salford, Manchester
Raghad has over 15 years' post qualification experience with a number of private practice and in-house positions, including the Chief of Legal with Eastern Investment Group Holding (a British investment banking firm, based in Amman), the Head of Legal and Compliance with Global Investment House (a regional asset management & investment banking firm headquartered in Kuwait), and the Head of Legal and Executive Director at GIG Arab Orient Insurance Company in Jordan
In the United Arab Emirates, Raghad has worked with regional firms for the past eight years, where she has honed her specialties in the Insurance and Reinsurance, and Corporate and Commercial markets.
Raghad has extensive experience incorporating and restructuring insurance companies (including insurance intermediaries) and advising clients on the legalities within the ever-evolving insurance landscape, including matters related to treaty reinsurance, claims, insurance licensing, third party administration, brokerage regulations and multi-party disputes.
Raghad provides advice for a number of multi-national insurers and insurance intermediaries and has worked closely with the local regulators to assist with the drafting and implementation of local regulations. Notably, Raghad was named Woman Leader of the Year 2022 by the Middle East Insurance Review (MEIR) magazine for her contribution in growing the insurance and reinsurance sector across the MENA region as well as her dedication to empower women.