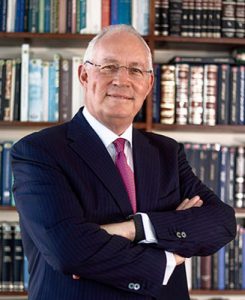 Chairman, Zu'bi & Partners Attorneys & Legal Consultants Senior Partner , Zu'bi & Partners Legal Consultants, Dubai
President, American Chamber of Commerce Bahrain
Honorary Consul of Canada to Bahrain (Retired)
Principle Practice Areas: Banking & Finance, Commercial & Corporate, Franchising, Government, Infrastructure, Intelletual Property, Labour, Litigation & Arbitration, Mergers & Acquistions, Privatisation, Property, and, Telecommunications
qzubi@zubipartners.com
Qays has a law degree from the University of Cambridge. He also holds a degree in Economics and Political Science from Duke University in the USA. He is a licensed litigator and is an arbitrator of the GCC Commercial Arbitration Centre and a licensed lawyer and legal consultant in Bahrain and in Dubai, UAE. Qays joined the law offices of Hatim S. Zu'bi & Partners in Bahrain in 1981, and went on to become a Partner.
In the 1990s, he led the firm into an agreement with leading Canadian law firm Stikeman Elliott to jointly pursue legal opportunities in the Middle East. Thereafter, Qays joined Al Futtaim & Sons, a major trading house in Dubai, as legal and business development advisor to the Chairman, whereby he gained vast experience and knowledge in matters relevant to commerce and the laws of the UAE.
Prior to setting up Qays H. Zu'bi Attorneys & Legal Consultants in 2001, Qays was the executive resident partner of White & Case LLP, managing its Bahrain office. Here he handled counselling and litigation matters for major financial institutions, multinational corporations and private clients.
Following his knowledge of and experience in the laws of Bahrain and the GCC region, Qays established Qays H. Zu'bi Attorneys & Legal Consultants in 2001. Following his departure from White & Case, Qays' firm was associated with Clifford Chance. On 1 July 2012, he acquired the law practice of Hatim S. Zu'bi & Partners and merged the same with his to form Zu'bi & Partners Attorneys & Legal Consultants.
Qays has advised private clients in Bahrain and the GCC on a wide range of local, regional and international legal matters. He has extensive experience advising clients doing business in Bahrain and in other Gulf countries. He is currently involved in advising clients in in international litigation cases, and is involved in advising local clients with respect to their international assets.
His positions include: Licensed Lawyer (Cassation Court) Bahrain; Certified Arbitrator, GCC Commercial Arbitration Centre; Legal Consultant, Dubai UAE; President, American Chamber of Commerce in Bahrain (AmCham); Founding member and Chairman , Oxford & Cambridge Society, Bahrain; Board Member, Bahrain Japan Business & Friendship Society; Board Member, Junior Achievement International (InJAz Bahrain); Board Member, AIESEC Bahrain; Member, International Bar Association; Member, Law Society of England & Wales (International Division).