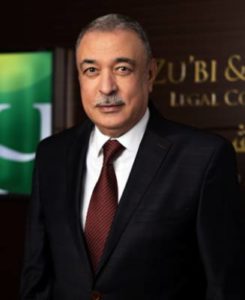 SENIOR ASSOCIATE – DIRECTOR OF LITIGATION DEPARTMENT
Principle Practice Areas: Insurance & Reinsurance, Banking & Financial Services Regulations, Commercial & Corporate, Construction, Cross Border Litigation, Labour, and Litigation.
melmongi@zubipartners.com
Moustafa is a senior Litigator and has over 40 years' of experience as a qualified barrister. He obtained his LLB (Bachelors in Law) degree from the University of Alexandria, Egypt, and has been a Member of the Egypt Bar Association since 1981.
He specializes in Insurance & Reinsurance and has advised and represented international insurers and reinsurers across insurance markets in the MENA region. His vast experience covers all the lines of insurance business including but not limited to marine, motor-vehicle, life and health insurance.
Moustafa has worked in private practice and has specialized in complex construction disputes, whereby he has represented private and government projects, and has been involved in numerous Civil Engineering related cases; construction claims; litigation support, and related services in connection with submission of claims, defense, and resolution of construction and civil engineering disputes.
His core practice areas cover the full range of litigation, both contentious and non-contentious. He also has extensive experience in advising on all aspects of employment, commercial and corporate matters.
Moustafa is fluent in Arabic and English.