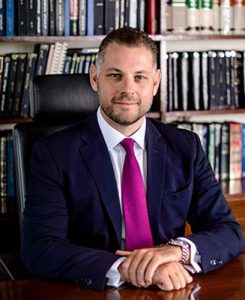 Partner, Zu'bi & Partners Legal Consultants
Managing Partner , Zu'bi & Partners Legal Consultants, Dubai
Private Notary, Bahrain
Principle Practice Areas: Banking, Commercial & Corporate, Franchising, Labour, Litigation, and, Mergers & Acquisitions.
[email protected]
Hatim graduated from the University of Reading with an LLB (Hons) degree and has completed the Legal Practice Course in London.
Hatim has gained a wide range of experience both in Bahrain and abroad, namely in London and New York City. His experience in Bahrain involved internships at prominent and highly regarded law firms on the island such as Hatim S. Zu'bi & Associates and Qays H. Zu'bi Attorneys & Legal Consultants, where one of his major achievements was his contribution to setting up and managing the Firm's Seef Branch Office at the Bahrain Investors Centre, which is a One-Stop-Shop developed by the Bahrain Ministry of Industry and Commerce to serve companies.
In London, Hatim completed an internship with Herbert Smith LLP, where he was placed in the Litigation department. In New York City, Hatim obtained experience with Aon, where he was involved in analysing insurance models to address and demonstrate how best to meet clients' demands and assess their overall risk exposure. In addition, Hatim also gained experience working in the Project Finance department at White & Case LLP, in New York.
Hatim is fluent in Arabic, English and French.