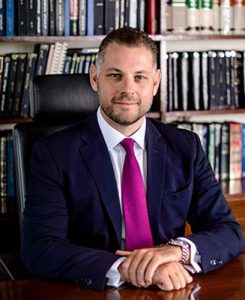 Managing Partner, Zu'bi & Partners Attorneys & Legal Consultants, Bahrain
Managing Partner, Al Zu'bi & Partners Legal Consultants, Dubai
Private Notary, Bahrain
Honorary Consul of Canada, Bahrain
Principle Practice Areas: Banking, Commercial & Corporate, Franchising, Labour, Litigation, and, Mergers & Acquisitions.
hqzubi@zubipartners.com
Hatim graduated from the University of Reading with an LLB (Hons) degree and has completed the Legal Practice Course in London, UK. Upon graduation, he worked at AON Risk Services (NY, USA) and at prominent international law firms, Herbert Smith LLP (London, UK) and White & Case LLP (NY, USA).
In August 2008, Hatim joined Zu'bi & Partners, Attorneys & Legal Consultants (Bahrain), after working at leading Bahraini law firms, Hatim S. Zu'bi & Partners and Qays H. Zu'bi Attorneys & Legal Consultants and was named Managing Partner in 2023.
During his time at these firms, Hatim gained expertise in a variety of legal areas, including Corporate Law, Commercial Law, M&A, Banking & Finance, Labour Law, and Dispute Resolution. He also developed a profound understanding of the Bahrain legal system and the international legal framework.
Hatim's current practice areas include Litigation, Arbitration and ADR, Corporate, M&A and Restructuring, Franchising and Commercial Agencies, Labour and Employment, Banking and Finance, and Insurance.
He is a highly skilled and experienced lawyer who is known for his expertise in complex legal matters. Hatim is also a trusted advisor to businesses and individuals on a wide range of legal issues, and he is committed to providing his clients with the highest quality legal services.
Hatim is a licensed legal consultant in Dubai, UAE as well as a licensed advocate and private notary in Bahrain where he is licensed to notarize documents in the English language.
In addition to the above, Hatim also currently serves as the Honorary Consul of Canada to Bahrain.
Hatim is fluent in Arabic, English, and French.