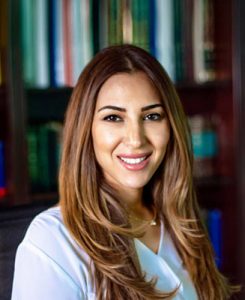 Principle Practice Areas: Banking and Finance, Capital Markets, Commercial & Corporate, Contracts, Employment Law, Equity, Investment Funds, Mergers & Acquisitions, and Private.
[email protected]
Dareen is a qualified Bahraini lawyer and a member of the California Bar Association. She obtained her Bachelors of Science in Economics, a Bachelors of Arts in Business Finance from the University of Southern California, and a Juris Doctorate in Law from Southwestern University School of Law in the U.S.
Dareen started her law career at Qays H. Zu'bi Attorneys & legal Consultants in 2007 where she worked as a Legal Consultant for 4 years. She then re-joined the firm in October 2014 as a Senior Associate. She has vast experience in a wide range of corporate matters, mergers and acquisitions, banking and finance transactions, construction, contracts and employment disputes. Her undergraduate background in finance and economics has enabled her to better assist our banking clients and in this respect, she has advised on large-scale capital markets transactions such as IPOs and bond issues in addition to providing banks and investment firms with licensing, structuring, corporate governance and regulatory advice.
She is fluent in Arabic, and English.